Have you been wondering about remodeling your kitchen but are unsure how to go about it? The modern kitchen has a few key elements that make it different and quite extraordinary. There is a lot of focus on functional organization, cabinetry, simple yet stylish hardware, flooring, lighting and so on. The natural beauty of the cabinets and hardware coupled with soothing shades used in the cabinetry and wall colors will make your kitchen truly modern. We have put together some basic and vital elements that help in putting together a beautiful modern kitchen.
This is also known as slab style door which is one of the central features of the modern kitchen. These doors have no specific decorative design, neither are they raised nor recessed. It is relatively easy to put together and goes with kind of kitchen layout, be it a galley kitchen, open kitchen or L-shaped kitchen. However, you may come across households which have shaker style doors too. These are transitional in a way, and not always considered to be modern. They feature a 5-piece recessed panel and are quite stylish. To give yours an undeniably modern look, you can opt for white shaker kitchen cabinets since it will give your kitchen a sophisticated appeal.
Frameless Cabinet Structure
You can boast about the modern look of your kitchen by installing frameless cabinets. It appears like an overlaying furniture structure without any visible face frame. These look exceedingly sleek with uniformly spaced drawers and doors.  These give your kitchen a polished and sophisticated appeal. If you want to give your kitchen an earthy yet modern look, you can think of choosing the walnut kitchen cabinets or maple cabinets. With the frameless cabinet structure, these earthy hues will make your kitchen hearty and warm allowing you a good headspace to cook delicious meals for your family. You will enjoy walking into a beautifully sleek, polished and uniformly set kitchen.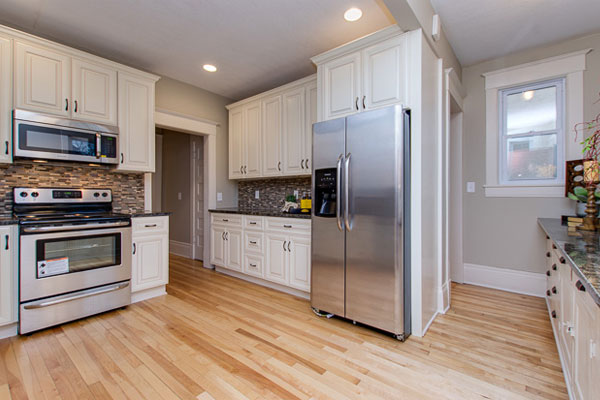 Simple and Stylish Hardware
The hardware should be smooth, basic and stylish to put together a modern kitchen. You should think of opting for flat linear or tubular pulls which fuse immaculately with the cabinetry. One of the most effective ways to accentuate the cabinetry in your kitchen is by choosing those cabinets which have horizontal lines running through them. More often than not, the cabinets run the full length of the wall and these horizontal lines highlight the symmetry.
Natural Beauty is the Best Beauty
It is really important to rely on the natural beauty of the materials and not try to make it too decorative. Sometimes it may feel like the cabinet is the only thing present in the kitchen and it is natural to want to make it more accessorized. It is thus extremely necessary to choose a beautifully polished wood for the cabinetry, like the walnut kitchen cabinets. It has a subtle rustic appeal with intricate grain patterns. You need to focus of appropriate lighting in the kitchen that enhances the natural beauty of your cabinets and the marble work.
Focus on the Consistency of the Accents
Accents are the added woodwork and lighting that are added to the kitchen to heighten the overall aesthetic of your kitchen. These work as the ornamental aspect of the modern kitchen. You obviously need to make sure that these do more than just embellishing the visual elements and have a function to play in the kitchen. The table, chairs, bar stools and lighting are the basic accents in the modern kitchen. You need to wary that these showcase an undeniable uniformity so that the symmetrical harmony established by the beautiful cabinetry is not disrupted.
In putting together this list of key features of a modern kitchen, we hope that you have gained perspective on your remodel project. One of the essential aspects to keep in mind is that less is more in order to achieve a minimalist modern kitchen look.